Capacitor conference all-in-one is a multimedia conference equipment installed in the office or lobby of the conference room for meetings. It is usually composed of Aisin OPS computers, touch screens, stereos, microphones and other electronic equipment. The electronic and intelligent conference mode fundamentally solves the problems and deficiencies in the previous conference mode, truly realizes the "remote conference interaction", and provides a new conference mode of high quality and efficiency.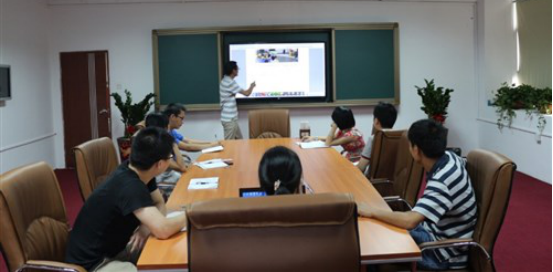 With the further deepening of remote video conferencing, conference touch interactive all-in-one products have attracted much attention from the conference market, especially OPS computers, and the market demand has continued to grow. It is foreseeable that the Chinese conference market will have the fastest-growing and most demanding OPS computer market.
 There is development and there must be speculation. Not to mention that homogenization is getting worse, the behavior of fighting for quality at the price of sales is causing the market to lose balance, while vicious competition will also affect the development of the entire market. How to choose excellent products will directly affect the popularization of education and education. As a leading brand in the industrial control industry, Shenzhen Aixin Microelectronics has always adhered to high-quality and superior-quality product output, especially the OPS computer used in the education industry, and has made great efforts to develop and promote it.
In response to the increasing demand for high performance, low power consumption, and fanless display in the digital signage and conference whiteboard industries , AIOSTAR has released the landmark new OPS product AOS-SOJ4141SA in response to market demand. Geminilake J4005 / j4150 / J5005 / N4000 / N4100 High-performance, high-frequency, fanless 4K 60HZ OPS computer module, equipped with three displays (HDMI + HDMI + DP), dual network (dual Gigabit Ethernet port), 6USB are its largest Features, HDMI2.0 has a better display effect, higher compatibility for high-definition video, and has dual Gigabit network ports, which is convenient for the internal and external network information isolation and can also perform micro-lecture recording and monitoring extended functions.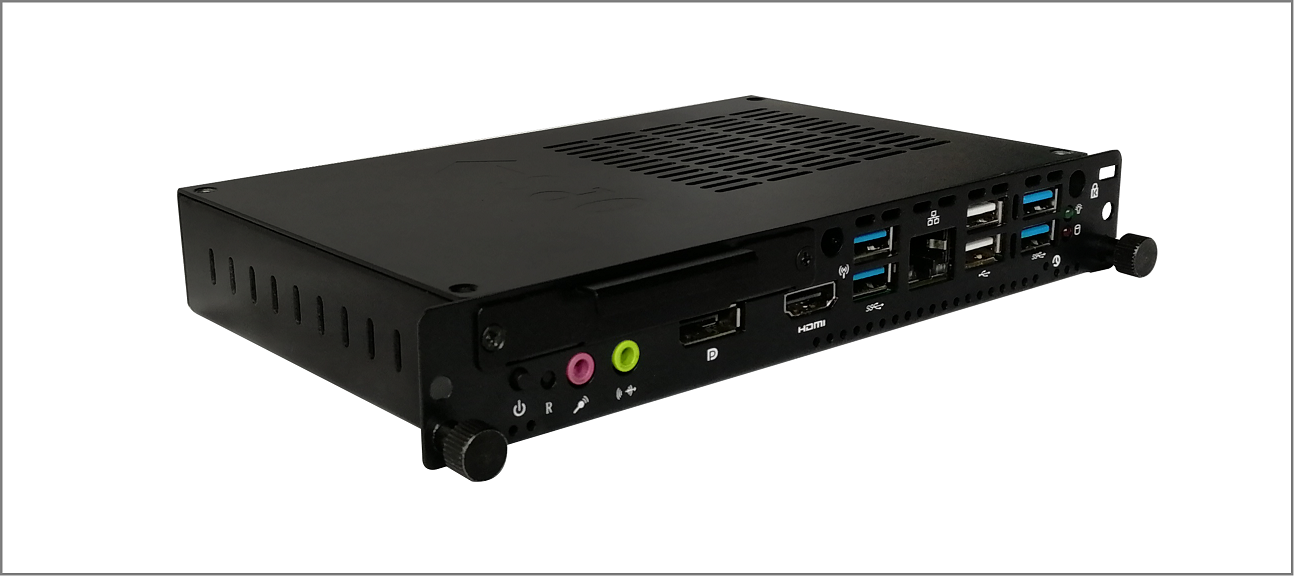 AIOSTAR AOS-SOJ4141SA still continues the appearance design of AOS-SOJ1945C, compatible with the original OPS standard, and it is convenient for old users to directly upgrade the AOS-SOM6I45C (I3 / I5 / I7) series product line. It is made of all-metal material and measures 180mm x 119mm x 30mm. As the core component of the electronic whiteboard, having strong performance is the key. AIOSTAR AOS-SOJ4141SA adopts Geminilake SOC chipset, supports Intel's latest J4005 / j4150 / J5005 / N4000 / N4100 series, and features around 10W. Customers can purchase and install suitable processors according to their own needs. . The SO-DIMM memory slot supports up to 16GB DDR4-2333 memory, and also supports the installation of 2.5-inch SATA III hard drives and MSATA II hard drives.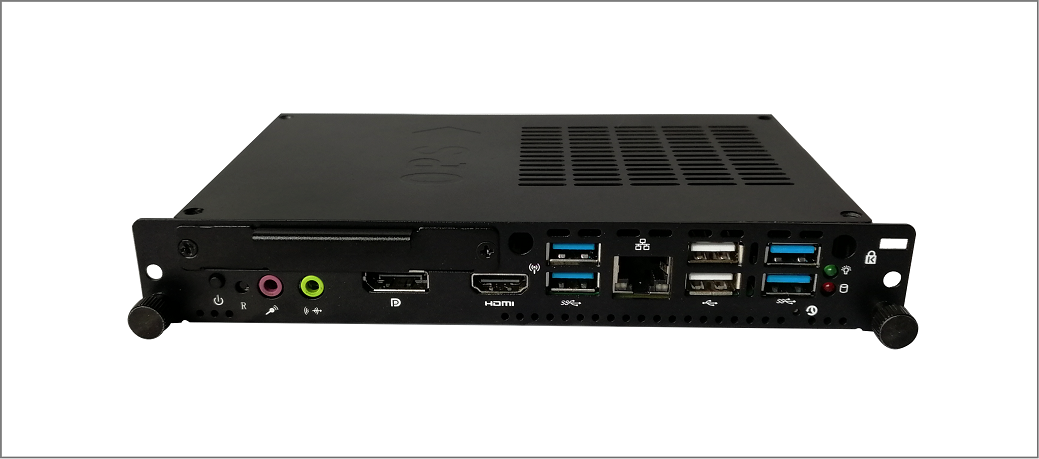 As the highlight of conference touch all-in-one or digital signage, cost-effective features have always been valued by customers. Aixin Micro AOS-SOJ4141SA is innovatively equipped with DP and HDMI display channels in OPS computers, which meets the display needs of conference all-in-ones or commercial electronic whiteboards and digital signage. At the same time, fanless heat dissipation is used to ensure that there is no fan noise during the class, so that learning is completely immersed in the interactive teaching environment and does not affect the students' class. AIOSTAR AOS-SOJ4141SA Geminilake J4005 / j4150 / J5005 / N4000 / N4100 OPS machine supports 4K 60HZ display performance output, ensuring the performance of OPS computer can run a variety of teaching software more smoothly, the overall power consumption of OPS computer is controlled at 30W Left and right, it can better control the overall heat generation of the conference touch all-in-one, making the conference touch all-in-one more power-saving and stable.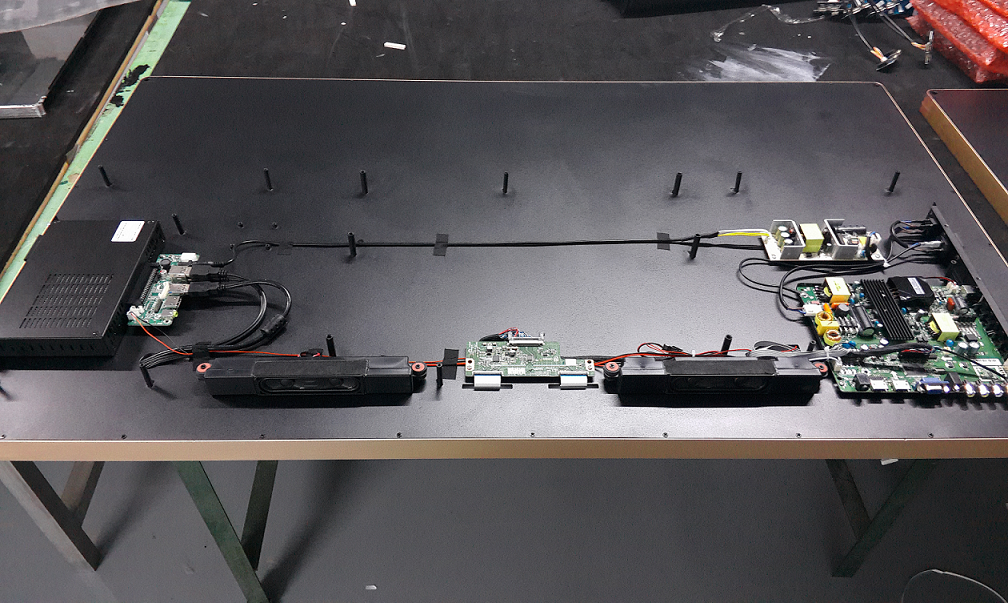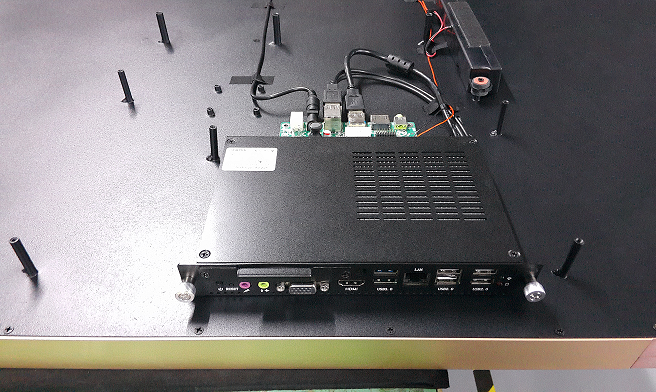 Aiostar AOS-SOJ4145A also provides 6 USB interfaces (two of which are USB 3.0) and a set of audio interfaces, which greatly facilitates the expansion of more devices. In addition, the dual Gigabit RJ45 network port and the optional M.2 wireless module (WIFI / 3G) can ensure that the host can network in an optimal way at any time.
Aiostar as the domestic company with the most complete R & D, production and sales of OPS computer product lines, also provides OEM / ODM customization services. The current main product lines are:
OPS phone: Baytrail J1800 / J1900 / Baytrail-CR Z8350 / GeminiLake N4000 / J4105 CPU / HM76 + 2-3 CPU / HM86 + 4 CPU / Skylake-u + 6-7 CPU / Whiskeylake-u + 8- 9th generation CPU.
OPS-C computer: HM76 + 2-3 generation CPU / HM86 + 4 generation CPU / H77 + 2-3 generation CPU / H81 + 4 generation CPU / H110 + 6-7 generation CPU / H110 + independent display GX730 / 960/1030 / 1050 / 1050TI 2-4GB / H310 + 8-9 generation CPU / H310 + alone display 1060/1070 6GB graphics card.
Customized OPS-C computer: with DVD optical drive series OPS-C computer / ultra-thin 27MM series OPS-C computer / with wireless router series OPS-C computer / with capture card series OPS-C computer / with dual network ports and three network ports / Domestic Zhaoxin CPU + domestic operating system series OPS-C computer.
Android OPS computer: RK3188 Android OPS computer / RK3288 Android OPS computer / RK3399 Android OPS computer / RK3399PRO Android OPS computer series.
OPS transfer board: support 3USB + HDMI / support 6USB + HDMI / support 5USB + HDMI + RJ 45 network port / support 5USB + HDMI + VGA + RJ45 network port / support LVDS dot screen / support Vbyone dot screen.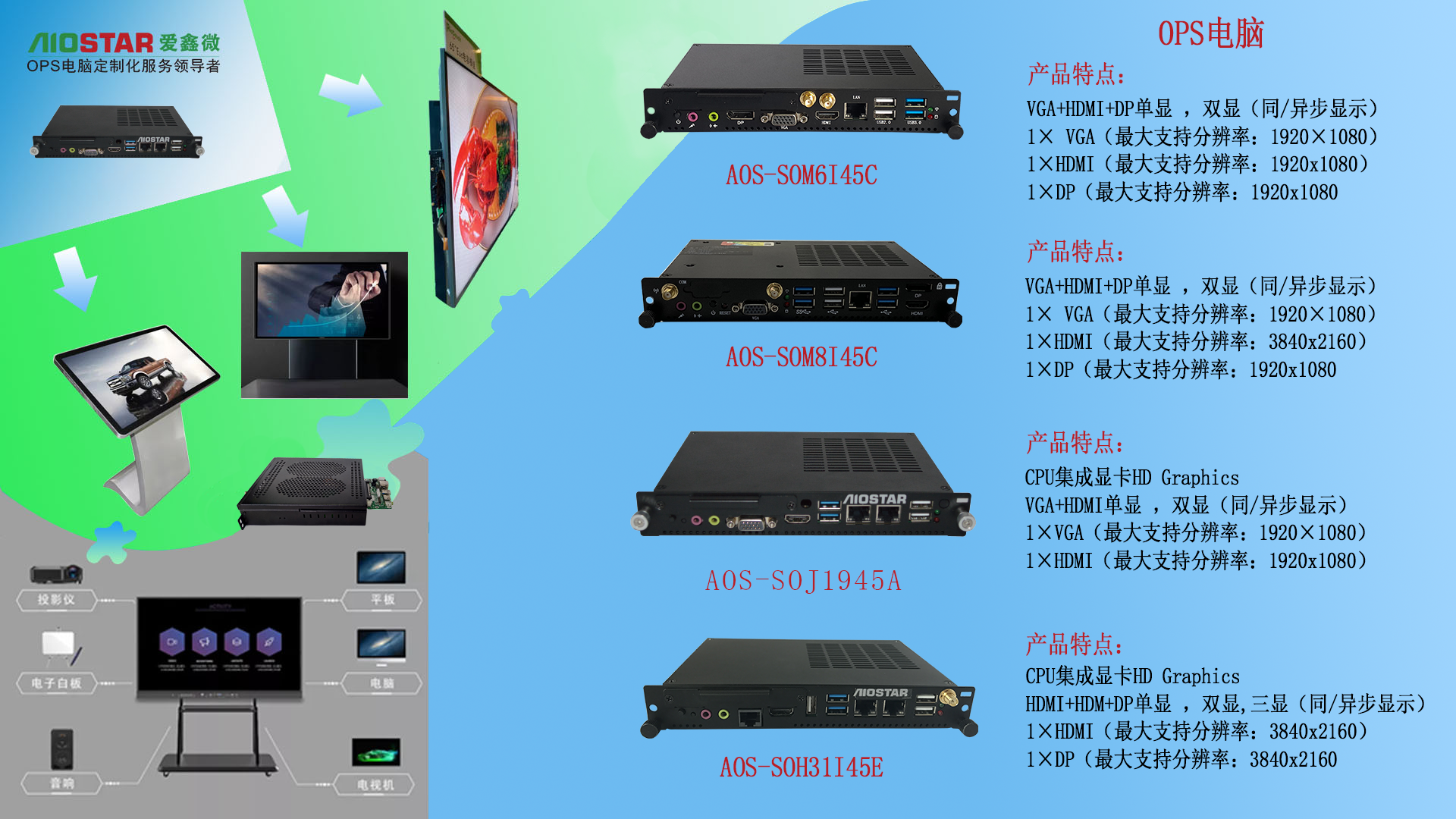 Shenzhen Aiostar Electronics Co., Ltd. (Shortname below "AIOSTAR") is a high-tech enterprise integrating R & D, production and sales. It is also a close partner of Intel, AMD, NVIDIA and other chip manufacturers. The company's main industrial motherboards (ITX / 3.5-inch / NANO, etc.), media player hosts, OPS hosts, OPS pluggable computer modules, OPS motherboards, BOX-PCs, network security hardware platforms, servers, industrial tablet computers, integration Products such as workstations. At present, the products have been widely used in DS, MIDS, IWB, POS, self-service inquiry, retail finance, industrial automation, intelligent transportation, network information security, communication, intelligent security, cloud computing, petroleum and petrochemical, medical, military equipment and other fields . The company attaches great importance to customer needs and satisfaction, and can respond quickly to different customer needs, tailor-made for them and provide personalized OEM / ODM services.